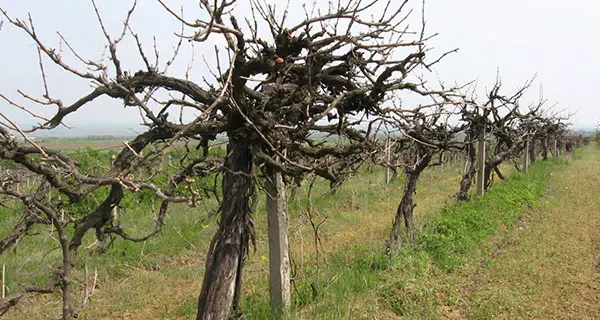 Northwest Bulgaria and Gamza
Gamza or Kadarka is a wine grape variety grown in Bulgaria since ancient times. The plantings with Gamza in Bulgaria are mainly in the Danube river plain. 
Legends of Gamza
Many myths and legends are found in the north-western Bulgaria as to where the variety originated.
The inhabitants of one Bulgarian village – Novo Selo – believe that the variety comes from their lands. According to the legend, on their way back from Jerusalem to their homes, several crusaders decided to settle in Vidin region where they have planted the wonderful Gamza vine, brought from the south.
According to another legend, wines made of Gamza were already consumed at the time of ancient Bulgaria. It was believed that it bestowed magical power and helped in battles. Excessive consumption, however, leads to domestic quarrels and drunkenness, as a result of which, a local wealthy knight (boyar) ordered to eradicate all plantings of  this variety in the region. He was famous for having an unusual guard – a lion that roamed freely at night and defended the palace. As a result, soldiers of the night watch were often found dead at dawn. Only one not only survived, but also fought off the lion. In response to a question to him, what his bravery and courage were due to, he explained: to the wine from Gamza, whose vine his family kept on their estate. Thus, the boyar canceled the ban and Gamza began to be grown widely. He named it after his daughter – Gamza, in ancient Arabic: capricious.
Gamza these days
Nowadays, it seems that the chance is being missed to establish Gamza as a flagship in our country, as the Hungarians are doing. Gamza is a local variety but it is also found in Romania, Serbia, Hungary (under the name: "Kadarka"), Austria and Slovakia.
The emphasis in Bulgaria is rather put on other local varieties as Mavrud, Broad Leaved Melnik and Rubin (cross between syrah and nebbiolo). The reasons for that are:
The plantings with gamza and rather their absence:
There is no DNA-research and it is very difficult to find planting material in neither in Bulgaria nor in Italy or France;
After 1989 (the collapse of the communist regime) very few vineyards with Gamza were planted. In general the projects with new vineyards in Northern and in particular Northwestern Bulgaria are much less than in the South and along the Struma valley.
Many of the old vineyards are abandoned and there are very few farmers who have taken care of their vineyards during the last few decades.
Foreign varieties are being planted in Bulgarian vineyards such as Sangiovese, Tempranillo, Malbec, etc. thus displacing local varieties.
The second main reason is in trade and supply.
Immediately after the political changes in Bulgaria Gamza was perceived as a synonym for cheap table wine, and all good restaurants gradually removed it from their wine lists. Wines of "western" varieties, as well as imported wines, are quickly becoming fashionable. In this period, Gamza sounded "provincial".
There are hopes and predictions that Gamza will return to the scene, but so far it hasnt happened. We view it as a personal cause and year after year things gradually start to happen. Currently, you can find gamza on many of the wine lists of good restaurants in Sofia and in the country, as well as on the shelves of specialized stores, and more and more people, mostly wine connoisseurs, are looking for it.
Abroad, wine merchants are massively looking for local varieties, because they have had enough of Cabernet Sauvignon, Cabernet Franc, Merlot, Syrah and other red varieties and Chardonnay, Sauvignon Blanc from the whites. Everyone is looking for something different, something typical of the given country, and if the wine bears the character of the region, things happen quickly, because the experienced wine lovers quickly recognize terroir wines.
Novoselska gamza
The variety Novoselska Gamza is the original Gamza, which is believed to have been planted in the Novo Selo area back in 1711. And while Gamza, grown in central northern Bulgaria has been relatively modified by vine- and viticulture specialists in order to produce denser wines, the Novoselska Gamza variety is distinguished by far greater elegance.
The clusters of the Borovitza winery from the "Great Terroirs" series are vinified from old vines – 45/60 years old, and those from the "Borovitza" series from vines in their strength -16/20 years old.
Here you can see all the wines of the Borovitsa winery of the Gamza variety:
Gamza, Borovitsa Collection
Gamza (Grani), Great Terroirs
Gamza (Black pack), Great Terroirs
Gamza Rose, Working label